The danger of 'zombie' batteries in your bin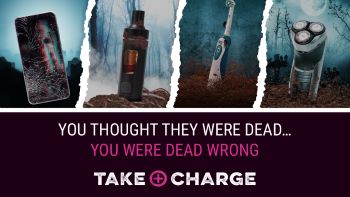 How to dispose of spent batteries safely
P R E S S R E L E A S E
24 October 2023
Danger of 'zombie' batteries – take charge!
Zombie batteries are once again terrorising our waste bins this Halloween!
The dangers of throwing dead 'zombie' batteries into household bins has been highlighted by waste chiefs in South Yorkshire.
This Halloween consumers are being reminded never to put spent batteries in with general rubbish but to recycle them using specialist collection points.
Dead 'zombie' batteries can wreak havoc if they are thrown away with other waste and recycling. They are likely to be crushed when the waste is collected and processed and some batteries, such as lithium-ion (Li-ion) can ignite or even explode when they are damaged. This can set fire to other waste like paper, leading to serious incidents and put lives at risk.
Lithium-ion batteries are often found in everyday products like laptops, tablets, mobile phones, electric toothbrushes, power tools, scooters and even e-cigarettes.
The Environmental Services Association, the trade body representing the UK's waste management industry, estimates that the UK recycling and waste management sector is seeing, on average, one significant fire every day in the UK caused by improperly discarded batteries.
Residents looking to dispose of dead batteries in Barnsley, Doncaster and Rotherham can take them to collection points found in places such as supermarkets or electrical goods stores or their local household waste recycling centre.
Waste experts hope that by encouraging people to recycle batteries responsibly, it will reduce the number of "zombie batteries" placed in general waste and recycling and reduce the risk of fire and harm to life.
Alistair Beattie, is the Community Education Liaison Officer based at the award-winning BDR Waste Treatment Facility at Manvers, which diverts 97 per cent of Barnsley, Doncaster, and Rotherham household waste from landfill.
"Batteries are used throughout the home, and it is important that they are disposed of correctly. Fires caused by batteries placed in household waste can pose a danger to people working on refuse lorries or in waste recycling and treatment plants," said Alistair.
"We are asking everyone to please recycle batteries responsibly in the correct way by either using battery collection points in shops or using their local household waste collection centre. Vaping devices can often be recycled by taking them back to the stores they were bought from."
To help everyone stay safe please:
Never put batteries in household waste or recycling bins
Only recycle batteries using a proper battery recycling service. www.takecharge.org.uk features a battery recycling point locator tool.
Remove batteries from broken/discarded devices if you can and recycle the device and battery separately
If you can't remove a battery recycle the device using a small electrical recycling service. To find out more about where you can recycle unwanted electrical goods you can visit: Recycle your electricals https://www.recycleyourelectricals.org.uk/ or Recycle Now https://www.recyclenow.com/
For more information about recycling in your area visit your local council website.
Note to Editors: The waste treatment facility at Manvers processes around a quarter of a million tonnes of leftover waste a year from 345,000 homes across Barnsley, Doncaster, and Rotherham, turning it into useful products rather than sending it to landfill. For further information, contact Alistair Beattie on 07765 220452 or email Alistair.beattie@renewi.com