Disposing of unwanted tech items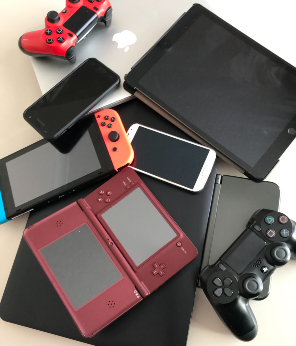 Please don't throw them in the bin! This is where millions of unwanted electronic gadgets end up, which is a waste of money and bad for the planet.
Please don't throw them in the bin!
Unfortunately, after Black Friday sales and Christmas, up to five million unwanted electronic gadgets do end up in the bin.
This is a waste of money and bad for the planet. Re-using and recycling old electronics could cut as much CO2 as taking 1.3 million cars off the road.
The latest survey estimates that there are 40 million unused tech devices gathering dust in UK homes – from 'phones, tablets and laptops to televisions and games consoles.
Almost half of households have up to five unused devices and the average UK home harbours unused tech worth more than £120.
The latest in the Re-use Revolution campaign by the Barnsley, Doncaster and Rotherham (BDR) Waste Partnership and Renewi, the firm behind the household waste treatment facility at Manvers, is encouraging us all to pass on our surplus devices rather than throw them away.
If they still work, donate them to charity, sell them at electronic shops or online, or pass them on to a friend or family member. If they no longer work, take them for repair, sell them for spares or recycle them at your local Household Waste Recycling Centre (HWRC).
Community Education Liaison Officer, Abi Reid, who is based at Manvers, said if electrical and tech items could not be passed on it was vital to dispose of them correctly.
"Many contain batteries which can be hazardous if thrown away in general household waste or recycling bins, causing fires and explosions and possibly injuring waste workers," she said.
"Tech devices also contain valuable precious metals that become lost when not disposed of correctly. These metals and materials inside them can be recycled into new things including more electronics and hospital equipment."
Small unrepairable electrical items like kettles, toasters, hairdryers and electric toothbrushes should be taken to an HWRC. Larger items like televisions and dishwashers often come with a take back scheme where for a small cost, and sometimes free, they will take your old one away when your new one is delivered.
For more information check out www.recycleyourelectricals.org.uk and the blogs on www.wasteless-sy.co.uk
Note to Editors: The award-winning waste treatment facility at Manvers processes around a quarter of a million tonnes of leftover waste a year from 340,000 homes across Barnsley, Doncaster and Rotherham, turning it into useful products rather than sending it to landfill.
For further information contact Abi Reid or Rebecca Wilson on 07814 302297 or abi.reid@renewi.com or rebecca.wilson@renewi.com