BDR Waste Treatment Facility
Barnsley, Doncaster and Rotherham have been jointly managing their leftover household waste since 1993. In 2007 the BDR Waste Partnership sought to procure a waste treatment facility to process all of the residual waste from the 340,000 homes across the area. In 2012 construction of the BDR Waste Treatment Facility began and the fully commissioned facility opened on 3rd July 2015.
What is the BDR Waste Treatment Facility?
The award winning BDR Waste Treatment Facility takes up to 250,000 tonnes of residual waste produced across Barnsley, Doncaster and Rotherham each year. The facility is unique in the UK and combines a Mechanical Biological Treatment facility and Anaerobic Digestion Plant to extract overlooked recycling and make as much use as possible from our waste.
What does the facility do?
The facility takes the non-recyclable household waste from across Barnsley, Doncaster and Rotherham which is shredded and dried before overlooked recycling is extracted, organic waste separated and the remaining material used to produce a solid recovered fuel. The organic waste is used on site to generate green electricity and produce a compost-like output used for land remediation and reclamation. The recycling extracted, which includes metals, aggregates and some plastics, are sent to specialist recycling re-processors. The fuel produced is sent to the Multi-fuel facility in West Yorkshire where it is used to generate low-carbon electricity.
How it works
The diagram below shows the journey that waste takes through the BDR Waste Treatment facility.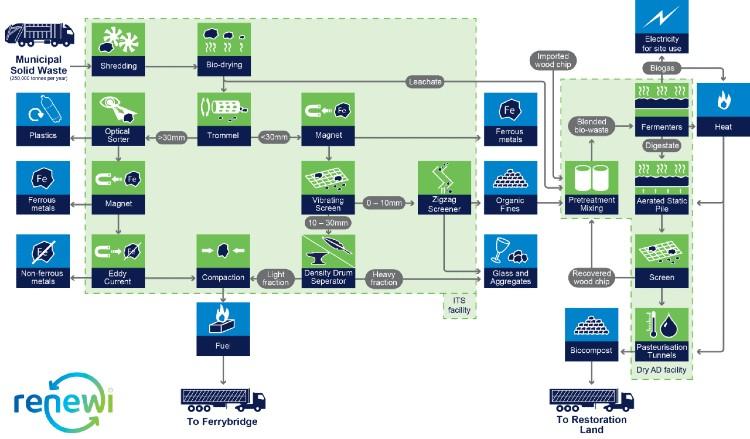 Why was it built?
With our increasingly disposable lifestyle and reduced landfill capacity, it became both environmentally desirable and increasingly practical to have a local waste treatment facility that is able to process the non-recyclable waste produced across the area while separating as much material as possible for recycling.
Why is it located where it is?
The facility, located at Manvers in Rotherham, is as close as possible to the geographic centre of Barnsley, Doncaster and Rotherham. It is built on the former site of the Manvers Main Coal Carbonisation Plant on a piece of land which was once the largest piece of waste ground in Western Europe.